Should you get the following error message when launching your game: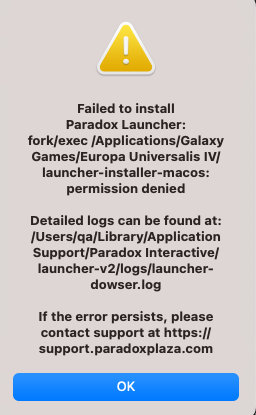 Please make sure you have executable permissions granted to the "launcher-installer-macos" file, which is located in the game's main installation directory:
Locate the game's installation directory (Europa Universalis IV).
Right click the installation directory, and select "Services > New Terminal at Folder" from the context menu (see screen below).

In newly open terminal window, type or paste following command: "chmod +x launcher-installer-macos", and press "Enter" (see screen below).

Now close the terminal's window and try launching the game again. This time Paradox launcher should properly appear.